Our nation is dealing with a public health crisis caused by the rapid spread of COVID-19. Understanding the illness, how it spreads, how to prevent it, and what do if you develop symptoms can help save a life.
How Does COVID-19 Spread?
As per the Centers for Disease Control and Prevention (CDC), the virus spreads mainly from person to person primarily through direct contact of respiratory droplets expelled when an infected person coughs, sneezes, or talks.
The spread of the virus increases when people are in close contact with one another, usually within 6-feet from each other.
Recent studies point to an alarming suggestion that people infected with the virus can spread it even if they haven't developed any symptoms.
How Can You Prevent COVID-19?
These simple prevention steps can help protect you and your family
Wash Your Hands Often – Use soap and water and lather for at least 20 seconds

Avoid Touching Your Face – Hands can pick up viruses from surface areas, so avoid touching your eyes, mouth, and nose when your hands are unwashed.

Avoid Crowded Places and Close Contact – Stay home as much as possible. If you need to go out, keep a distance of at least 6-feet between you and other people whenever possible

Wear a Face Mask – Everyone should wear a mask when out in public settings. It's especially important to wear one when you are around people who don't live in your household, and when maintaining adequate social distancing is challenging

Cover Your Mouth and Nose When Coughing or Sneezing – You can use a tissue to cough into a sneeze, discard the tissue after each use. If you don't have a tissue, bend your arm and cough or sneeze into your elbow

Don't Spit in Public Settings – Avoid spitting onto the sidewalk or other public areas, instead, look for a disposable tissue

Clean and Disinfect – Clean and disinfect high traffic and frequently touched surfaces and items Such as doorknobs and handles, light switches, countertops, tables, desks, phones and cell phones, keyboards, toilets, faucets, and sinks
Most Common Symptoms of COVID-19
Monitoring your health and symptoms can help seek early medical attention, which can reduce the risk of developing complications from the disease.
The most common COVID-19 symptoms include:
Fever

Dry Cough

Tiredness or Fatigue

Sore throat

Aches and Pains

Headache

New Loss of Smell or Taste

Chills

Runny Nose
Other less common symptoms include skin rash, discoloration of fingers or toes, and conjunctivitis.
If you are unsure of your symptoms, try the CDC's Self Checker
Severe Symptoms That Need Immediate Medical Attention
The following is a list of severe COVID-19 symptoms that signal you need to come to Prestige ER for immediate medical attention:
Difficulty Breathing

Chest Pain

Difficulty Moving or Speaking

Bluish Facial or Lip Coloring

Sudden Confusion
Prestige ER is The Best Option for All Your Emergency Care Needs Including COVID-19
Not only are we a 5-star ER, but we are also the longest-standing ER in the community. At Prestige ER, we care about our patients as if they were members of our family.
We adhere to strict health and safety guidelines that often exceed the recommendations of local and federal agencies.
To help keep you and your family safe, we've implemented a thorough sanitation protocol that includes regular cleaning of common areas and disinfecting examining rooms between patients.
Following physical distancing guidelines, we keep the number of people in our waiting area to a minimum, and none of our patients have to wait to receive care. Additionally, all our patients stay in a safe, private room while in our ER.
If you are seeking care for COVID-19, we recommend you contact us before you come into the ER to ensure everyone's safety. Additionally, all patients are encouraged to use our Online Check-In Form so our staff can be ready for you at the door.
All employees in our emergency department wear appropriate Personal Protective Equipment (PPE) while interactive with positive or suspected positive patients. The use of PPE significantly reduced the risk of contracting and transmitting the disease to other patients.
We accept all major private insurance plans, Medicare (Update: Now that the PHE is over, we are no longer able to accept Medicare), and have personalized Non-insured and Payment Plan Options.
The best part of choosing Prestige ER is that all patients receive a free medical screening conducted by an ER Physician.
If you need emergency care, Prestige ER is here for you!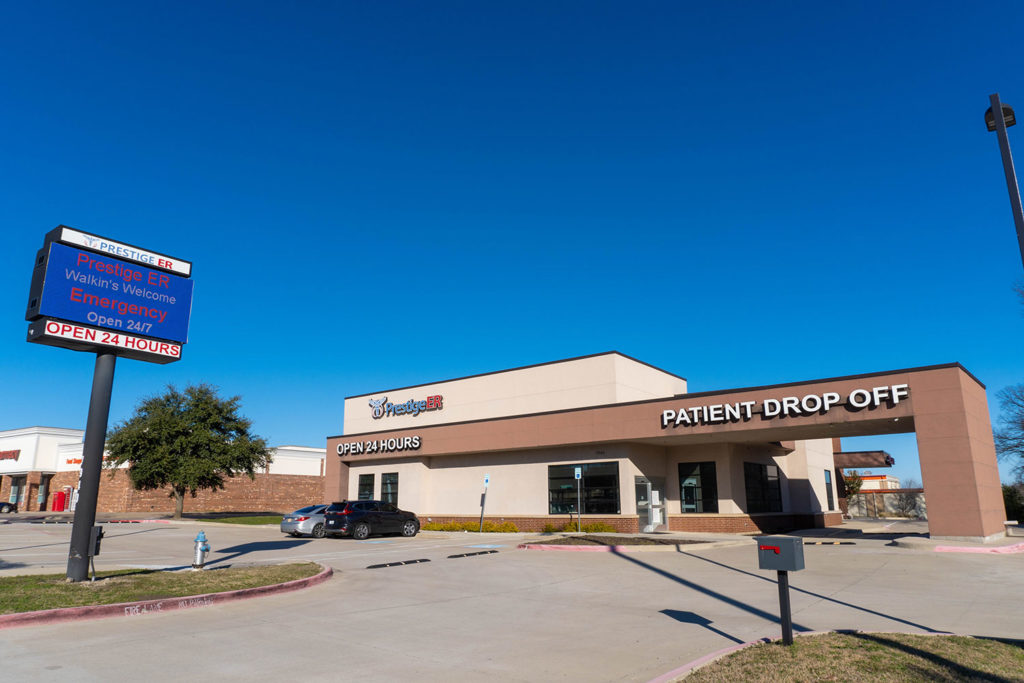 Can You Tell the Difference Between A Cold, Flu, COVID-19, and RSV? As the world continues to grapple with respiratory…