Thanksgiving Safety Tips 2020

Let's All be Thankful and Safe This Thanksgiving!
Time for cheer, the holiday season is here!  Let's explore the following Thanksgiving Safety Tips for 2020 to make sure that everyone enjoys it safely.  There is so much to be thankful for this year, we have all faced challenges and heartbreak, experienced triumphs, and blessings. Through it all, we have found friendship and love in our community.
This year as we count our blessings, Prestige ER and its staff would like to express our gratitude and appreciation for the friendship, confidence, and loyalty you have shown us. We feel honored to be able to serve the great communities of Plano, Frisco, and Allen and remain committed to doing so for the years to come.
During the year 2020, many have spent much time social distancing and are really looking forward to seeing their friends and family.  We want everyone to enjoy a much deserved safe and happy Thanksgiving 2020.  In order to ensure the health and safety of our loved ones, please take into consideration these Thanksgiving Safety Tips for 2020.  We know how hectic and stressful preparing for this holiday can be, whether you are traveling to visit family or hosting a feast at your house, safety should always come first, a little planning, and attention to detail can prevent accidents.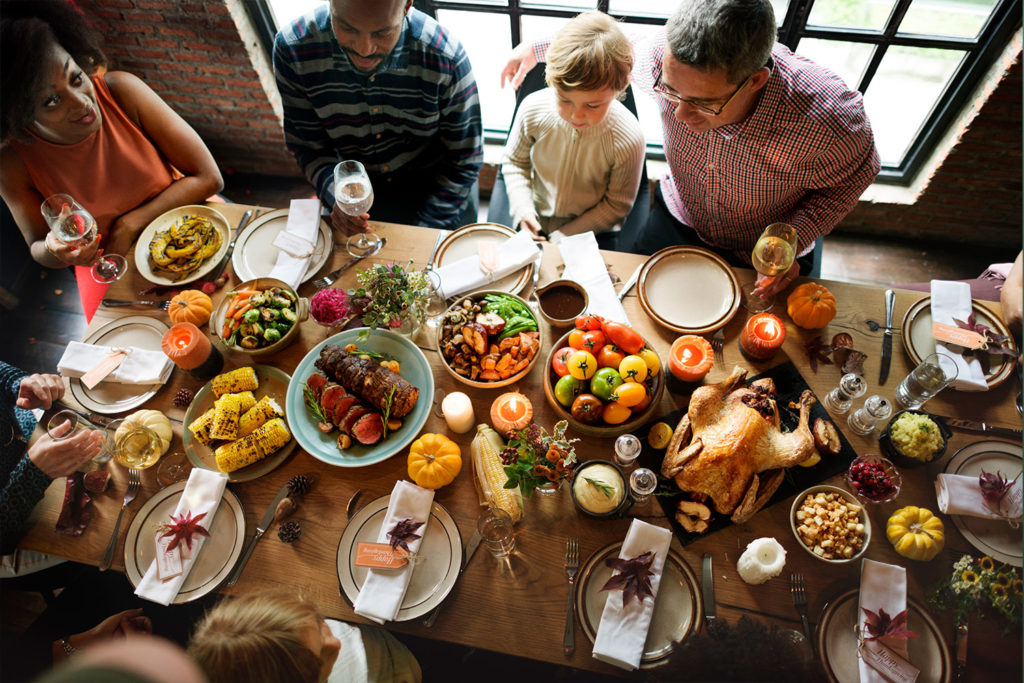 Thanksgiving Safety Tips for the COVID-19 Pandemic

Traditionally, the end-of-year holidays including Thanksgiving weekend have always been a mix of much anticipation as well as caution.  As the much anticipated Thanksgiving holiday is surrounded with travel, food, and drink, the number of emergency room visits tend to spike during these days.  This year is particularly important to keep in mind Thanksgiving Safety Tips due to the COVID-19 pandemic.  The following are Thanksgiving Holiday recommendations from the CDC:
If possible, avoid travel.  The CDC is recommending to stay home within your household and not to travel to avoid the spread of viruses. "Gatherings with family and friends who do not live with you can increase the chances of getting or spreading COVID-19 or the flu."
Anyone with a high health risk or with potential symptoms of the flu or COVID-19 should consider a virtual celebration.
The following will potentially increase the risk of exposure: Travel, indoor gatherings with poor ventilation, individuals from outside the immediate day to day household, the inclusion of individuals that have not been following proper COVID-19 protocol, or come from areas with high rates of contamination, as well as individuals that consume alcohol or drugs.
Make sure to continue to abide by state and local protocols.
Shop for your Thanksgiving meal ingredients online rather than in person.
Use a face mask during food preparation.
Check out our Cold vs. Flu vs. COVID-19 symptoms.  Should you have any doubt, consider getting a COVID-19 Evaluation beforehand, please keep in mind that at Prestige ER we are safe, fast & open 24/7.
Individuals of different households are recommended to "stay 6 feet (2 arm lengths) apart, wear masks, wash hands, and follow state, local, territorial, or tribal health and safety laws, rules, and regulations."
Travel safety tips are vital not just during the holidays but in general.  However, during the Thanksgiving holiday traditionally, there are surges in vehicle related accidents due to the high volume of people on the road.  For this reason, please consider the following Thanksgiving Travel Safety Tips: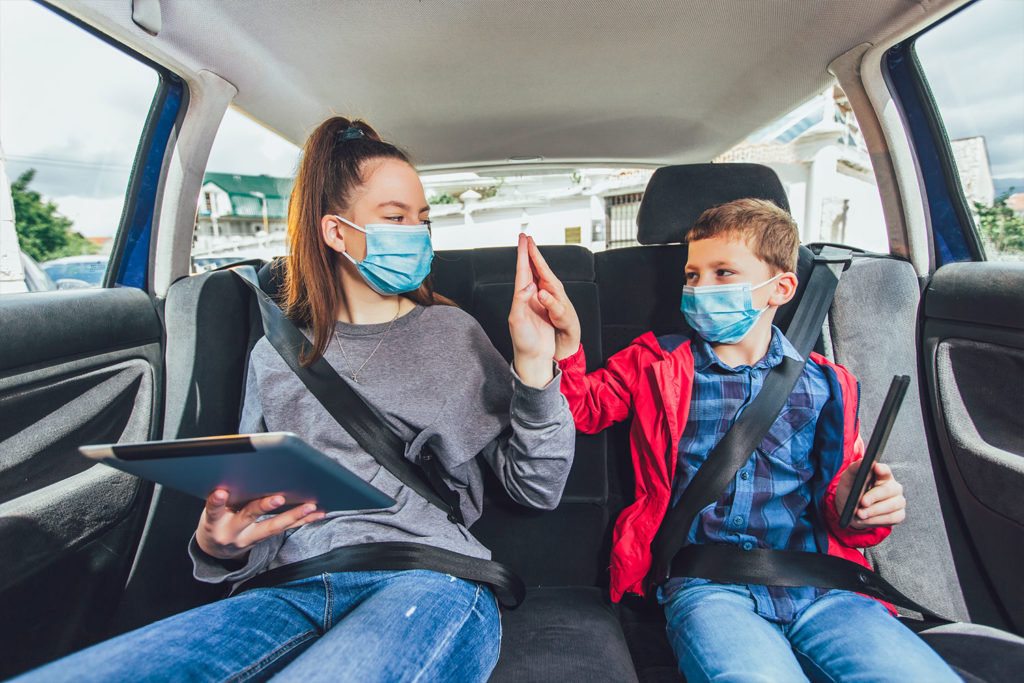 Plan Your Trip: There will be a lot of traffic, so it is always a good idea to plan your route and know which alternate roads are available.
Check Your Vehicle: Before you hit the open road, have a mechanic check your engine and breaks. Make sure your headlights, taillights and signal lights work properly and clean your windshield, so you have good visibility.
Beware of the Weather: Depending on where you are heading, there may be storms, or snow along the way, make sure your car is properly equipped.
Drive Safely: Everyone in the vehicle should wear their seatbelts, children should travel in the appropriate car or booster seats for their age.
Make Yourself Visible: Turn your headlights on if it's raining, or when it starts to get dark. Don't assume that because you can see the other cars they can see you.
Respect the Road: Be mindful of speed limits, and road signs. Don't drink and drive, and never text while you are driving, and keep your distance from other vehicles.
Take Breaks: On long trips, you should stop to rest often, stretch your legs and back, and if you are traveling with a companion consider alternating behind the wheel. You should not drive if you are feeling extremely tired or sleepy.
Everyone looks forward to Thanksgiving dinner for a whole year, don't let your family and friends down. These food safety tips will help keep your Thanksgiving meal safe from bacteria and keep your family and friends from getting sick:
Defrost your turkey in the refrigerator. Place the frozen bird on a tray or pan deep enough to catch any juices and keep it refrigerated until it's ready to cook

Depending on the size of your bird, and the temperature you keep in your refrigerator a turkey can take from 3 to 5 days to defrost, so plan ahead

Cook your turkey until it reaches an internal temperature of 165°F

Refrigerate all leftovers within two hours after serving
Avoid Accidental Cooking-Related Fires & Burns

Cooking fires triple during Thanksgiving which is why it's number two on our list of Thanksgiving emergencies to avoid.  Follow these tips to minimize the risk of setting your home on fire:
Never leave food, especially grease, or oils cooking on the stovetop unattended

Keep flammable items including potholders, oven mittens, kitchen towels, and food wrappers away from the cooktop and oven

Keep children and pets out of the kitchen area while you are cooking or baking

Place pot handles away from the edge of the stove, facing towards the rear to avoid someone accidentally knocking them

Avoid wearing long sleeves, or loose-fitting clothing that could catch fire while in the kitchen
Avoid Alcohol-Related Injuries

Most of us enjoy a drink or two during festivities like Thanksgiving. However, we should remember always to drink responsibly:
Don't mix prescription drugs with alcohol without the approval of your doctor. Most medicines don't interact well with alcohol, and there could be severe adverse effects

Don't drink and drive. If you plan on drinking, have a plan and either arrange to stay the night or have someone else drive you home
By drinking responsibly, not only will you be helping avoid another Thanksgiving emergency, you will be able to remember a wonderful time rather than wanting to forget a tragedy.
This Thanksgiving Day let's all vow to do our part to stay safe.  Part of staying safe is knowing where to go if an emergency does knock on your door.
Prestige ER will remain open as always to take care of your family and friends in the event of an emergency during the Thanksgiving holiday.

HealthCare.gov recommends that in case of an emergency, you head straight to the closest ER.
You DO NOT need to get prior approval from your health insurance company.
They will cover expenses barring whatever your deductible and coinsurance/copayments are for emergency treatments.
Prestige ER is open and ready to care for you during an emergency in which your health is significantly jeopardized 24/7, we work with all major insurance companies and our team is available to help you understand your coverage and rights. We will guide and fight for you every step of the way.
Know Where to Go in the Event of an Emergency

Prestige ER is Your #1 Choice During an Emergency.
#WeStayOPEN 24/7, through weekends & all holidays!
Prestige ER is honored to serve the residents and those passing through Plano and surrounding cities like Frisco and Allen.
Part of caring for your health is to know where to go in case of an emergency.  Please keep in mind that Prestige ER is Open 24/7 every day of the year, if you need us, we are here for you.
We are available 24/7 because an accident can happen at any time. Do not risk your health! Get help from the ER experts when you need it, visit us immediately on 7940 Custer Road Plano, Texas 75025.
#1 Medical Emergency Care in Plano, Near Frisco and Allen
Find the ER Specialists at prestigeer.org, We provide the Best 24 HR. Emergency Medical Services in Plano. Don't Wait in Line for ER Care!  Don't forget that WE STAY OPEN 24/7.
Get back on track to enjoying life, FAST! Experienced, Effective and Caring Emergency Physicians team up with the best On-Site ER care for everything from Minor to Major Injuries and Conditions.
CT Scan, Digital X-Ray & Ultras

ound

Certified Full-Service Diagnostic Laboratory

Specialized Pediatrics ER Care Facilities

Extended Stay Capacity