The Right Way & Wrong Way to Use PPE
Why Is Wearing a Face Mask Important?
The SARS-CoV-2 virus, which causes COVID-19 spreads through respiratory droplets expelled when an infected person speaks, coughs, sneezes, or breathes. The droplets can contaminate surfaces, where the virus can survive for hours or even days and has the potential to infect many others.
Face masks help block these respiratory droplets from becoming airborne and contaminating individuals nearby and surfaces.
This means that when you wear a mask, you are protecting other people, and when others wear a mask, they are protecting you and your loved ones.
When it comes to face coverings, there are many options to choose from, and knowing which is the best can be tricky. So here is a simple guide to help you choose the right one.
Face Mask Don'ts
Don't Use Face Masks with Valves
Avoid face masks that have a little plastic valve in the front. The problem with this type of cover is that it filters the air you breathe in, but it doesn't filter the air you breathe out so you can still spread the virus to others.
Don't Buy Medical or Surgical Masks
Although highly effective, surgical masks and medical N95 respirators are in short supply and much needed by frontline medical professionals who are trying to save lives.
If you already have some of these masks you can wear them but please don't buy any more.
Face Mask Do's
Do Buy or Make A Cloth Face Mask
The CDC recommends the use of cloth face coverings. Cloth masks typically have elastic loops that fit over your ears. The elastic loops make them easy to put on and off.
Cloth face coverings should have multiple layers of moisture resistant fabric to prevent, and you can buy your mask or make your own.
The great thing about cloth face masks is they are reusable; make sure to wash them after every use.
Use a Bandana or Scarf If you Don't Have A Face Mask
Although it's not the most recommended type of face-covering since it may not fit as well as a face mask, it's preferable to wear one of the garments than not wear any covering at all.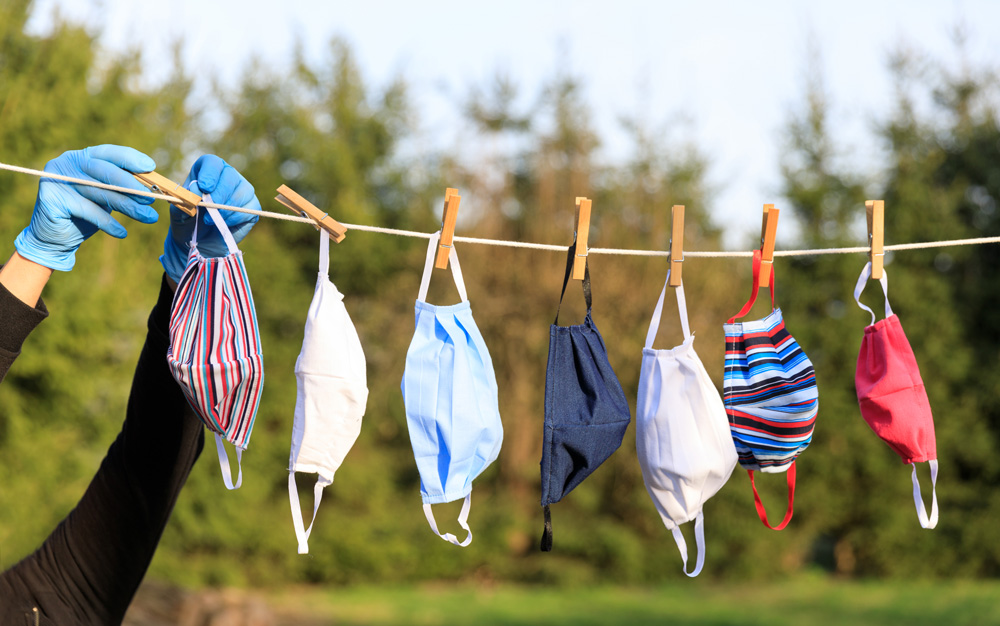 How to Properly Wear a Face Mask
Face masks are only useful when we wear them correctly, follow these tips to help protect yourself and others.
Find the Right Fit
Face masks need to fit snugly on your face, but they should also feel comfortable, make sure your mask doesn't fit so tight that it makes it hard for you to breathe.
Cover All the Important Parts
The purpose of using a mask is to stop potentially infected droplets from spreading to others or onto surfaces.
Therefore, your mask should cover the following:
Place your mask onto your face carefully, ensure it covers your mouth and nose before adjusting it to your nose bridge. Then secure it in place and try to minimize any gaps between your face and the mask.
Please don't touch the inside of your mask when you place it on or take it off, only touch the outer part of it.
Additionally, your face covering should not sit above your chin, as it can easily ride up when you speak.
Additional Considerations
Refrain from continually readjusting your mask as this can transfer germs from your hands onto the mark, and increase your risk of infection

Please don't touch the front the of the cover when removing it, remove it by untying it or releasing the elastic loops from your behind your ears

Please wash your hands before you put on your mask and after you remove it

Don't use masks that are damaged, have holes, tears, or the elastic straps are too loose

Wash and dry your cloth mask after each use and store it in a clean, dry place
At Prestige ER, we care about our community, and we firmly believe illness prevention is the best option. However, you can count on us to be here for you when you need us the most.