Free Easter Event in Plano
Come to Prestige ER for Free Pictures & Treats with the Easter Bunny at Plano! Come and enjoy this free family-friendly event sponsored by Prestige ER.  Great news, you are invited!  Don't miss out on enjoying this Free Easter Event in Plano.
When: Saturday, April 8th from 4 pm – 6 pm
Where: 7940 Custer Rd, Plano, TX 75025
Make sure to secure your Free tickets soon through Facebook or Eventbrite.
Tell your friends!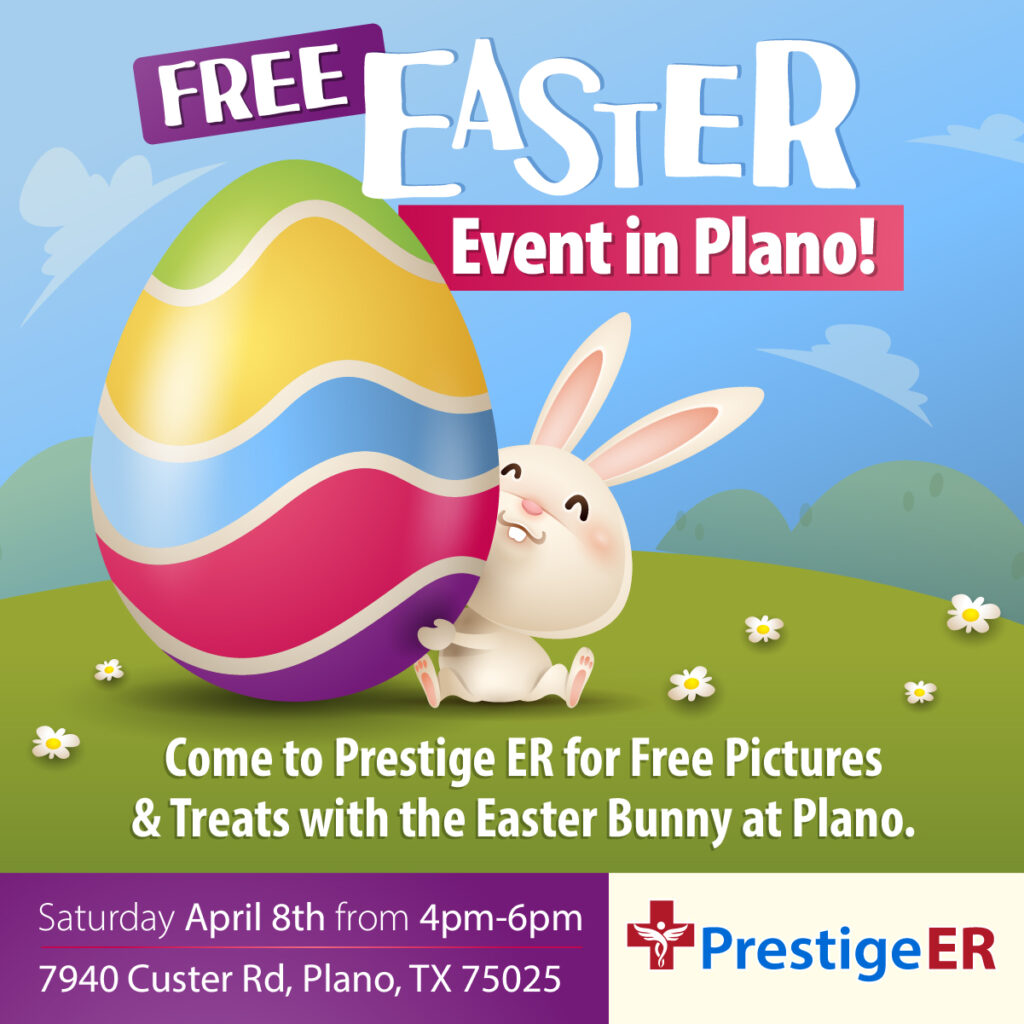 HealthCare.gov recommends that in case of an emergency, you head straight to the closest ER.
You DO NOT need to get prior approval from your health insurance company.
They will cover expenses barring whatever your deductible and coinsurance/copayments are for emergency treatments.
Prestige ER is open and ready to care for you during an emergency in which your health is significantly jeapordized 24/7, we work with all major insurance companies and our Patient Advocate team is available to help you understand your coverage and rights. We will guide and fight for you every step of the way.
Know Where to Go in the Event of an Emergency

Prestige ER is Your #1 Choice During an Emergency.
#WeStayOPEN 24/7, through weekends & all holidays!
Prestige ER is honored to serve the residents and those passing through Plano and surrounding cities like Frisco and Allen.
Part of caring for your health is to know where to go in case of an emergency.  Please keep in mind that Prestige ER is Open 24/7 every day of the year, if you need us, we are here for you.
We are available 24/7 because an accident can happen at any time. Do not risk your health! Get help from the ER experts when you need it, visit us immediately on 7940 Custer Road Plano, Texas 75025.
#1 Medical Emergency Care in Plano, Near Frisco and Allen
Find the ER Specialists at prestigeer.org, We provide the Best 24 HR. Emergency Medical Services in Plano. Don't Wait in Line for ER Care!  Don't forget that WE STAY OPEN 24/7.
Get back on track to enjoying life, FAST! Experienced, Effective and Caring Emergency Physicians team up with the best On-Site ER care for everything from Minor to Major Injuries and Conditions.
CT Scan, Digital X-Ray & Ultras

ound

Certified Full-Service Diagnostic Laboratory

Specialized Pediatrics ER Care Facilities

Extended Stay Capacity