Your Comprehensive Guide to 2023's Flu Season
As we transition from summer's sweltering heat to fall's crisp embrace, we face another challenge – the dreaded flu season.
Much like preparing for the changing seasons, you must equip yourself with the knowledge necessary to protect yourself and your family from this ever-present threat and understand when emergency care is needed.
Influenza, often referred to as the flu, is an infectious respiratory ailment stemming from the presence of influenza viruses. It can result in a spectrum of symptoms ranging from mild to severe. It can potentially cause serious complications or even be life-threatening.
Watch the Video: Your Comprehensive Guide to 2023's Flu Season
Causes and Spread of the Flu
The flu is primarily caused by influenza viruses, with the most common types being Influenza A and Influenza B.
These viruses can rapidly disseminate through respiratory droplets generated when an infected individual speaks, coughs, or sneezes. Additionally, you can contract the virus by coming into contact with surfaces that have been tainted with influenza viruses and subsequently touching your mouth, nose, or eyes.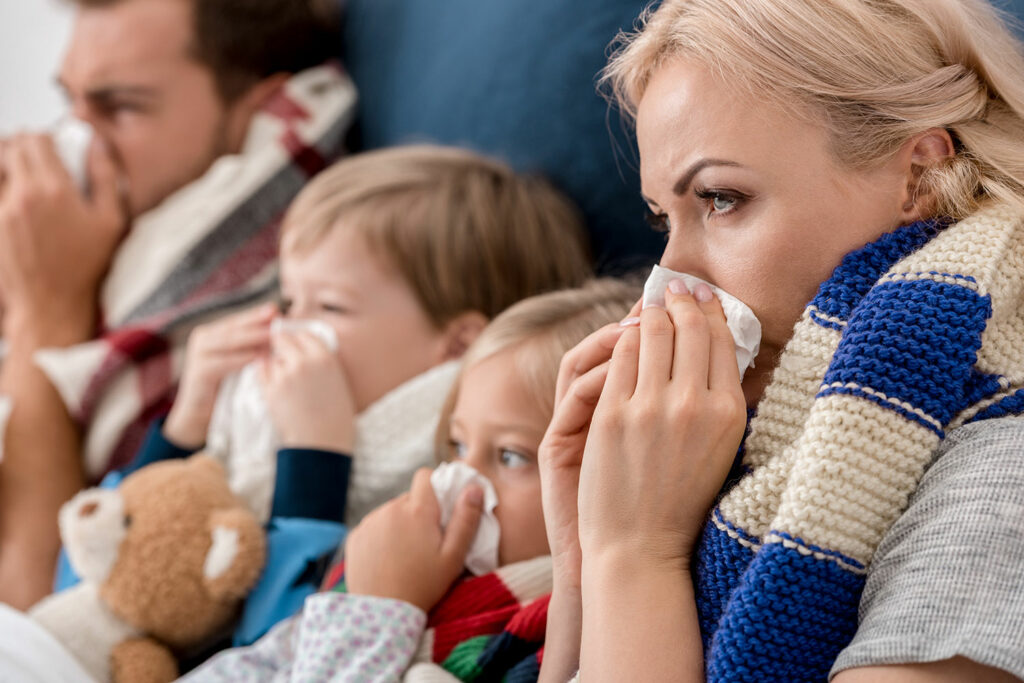 Flu Statistics
To get a clear picture of how disruptive the flu season can be, let's take a look at some important statistics from the CDC that highlight the significance of the flu:
Each year, the flu results in 9 million to 41 million illnesses.
An estimated 140,000 people need hospitalization due to the flu.
The flu leads to between 12,000 and 52,000 yearly flu-related deaths.
Recognizing Flu Symptoms
Not everyone experiences the flu the same way. While not everyone will develop the same symptoms, some are more common, including:
Fever
Sore throat
Cough
Runny or stuffy nose
Muscle or body aches
Headaches
Fatigue
Chills
Vomiting and diarrhea (more common in children)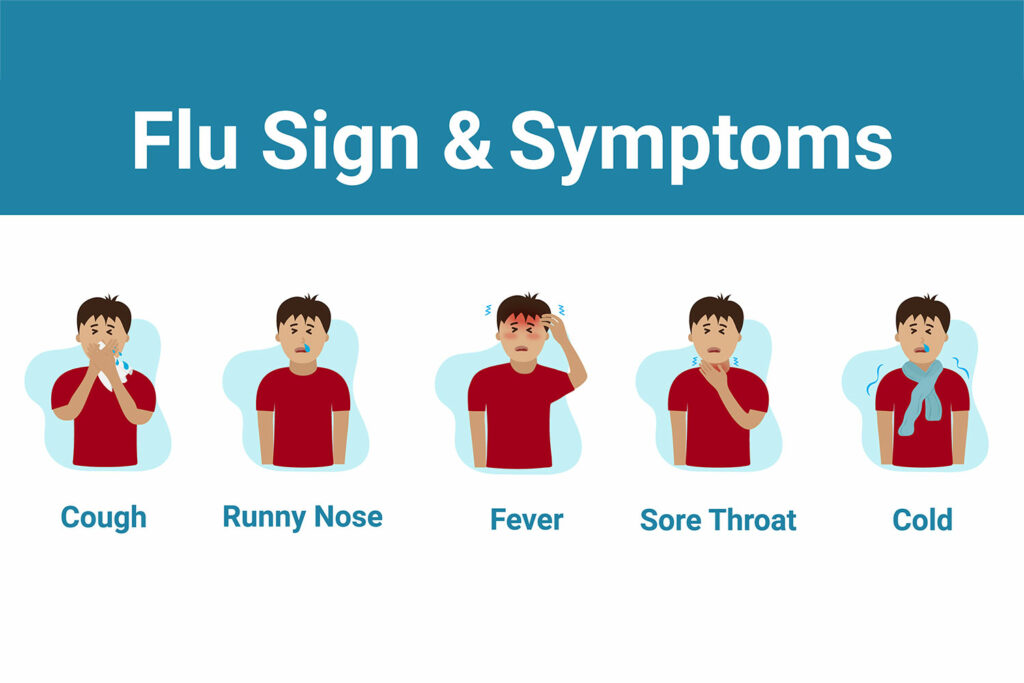 Potential Complications of the Flu
Thankfully, most people recover from the flu within a week or two. However, the flu can sometimes lead to severe symptoms and complications that, without proper medical care, can become life-threatening.
Pneumonia: A lung infection that can cause high fever, difficulty breathing, and severe chest pain. It's a serious condition, especially for individuals with weakened immune systems, young children, and older adults. Left untreated or delaying treatment can turn this into a life-threatening condition.
Sinus Infections: The flu can lead to sinusitis, characterized by facial pain, pressure, and nasal congestion.
Ear Infections: Flu-related ear infections can be painful and, if left untreated, may lead to hearing loss.
Worsening of Chronic Conditions: If you have underlying health issues like asthma, heart disease, or diabetes, the flu can exacerbate these conditions and lead to severe health problems.
Warning Signs of Severe Flu Complications
It's crucial to be aware of the following warning signs as they can signal the need for immediate medical attention:
Difficulty breathing or shortness of breath
Chest or abdominal pain
Sudden confusion or dizziness
Seizures
Persistent vomiting
Flu-like symptoms that improve but later return with fever and a worse cough.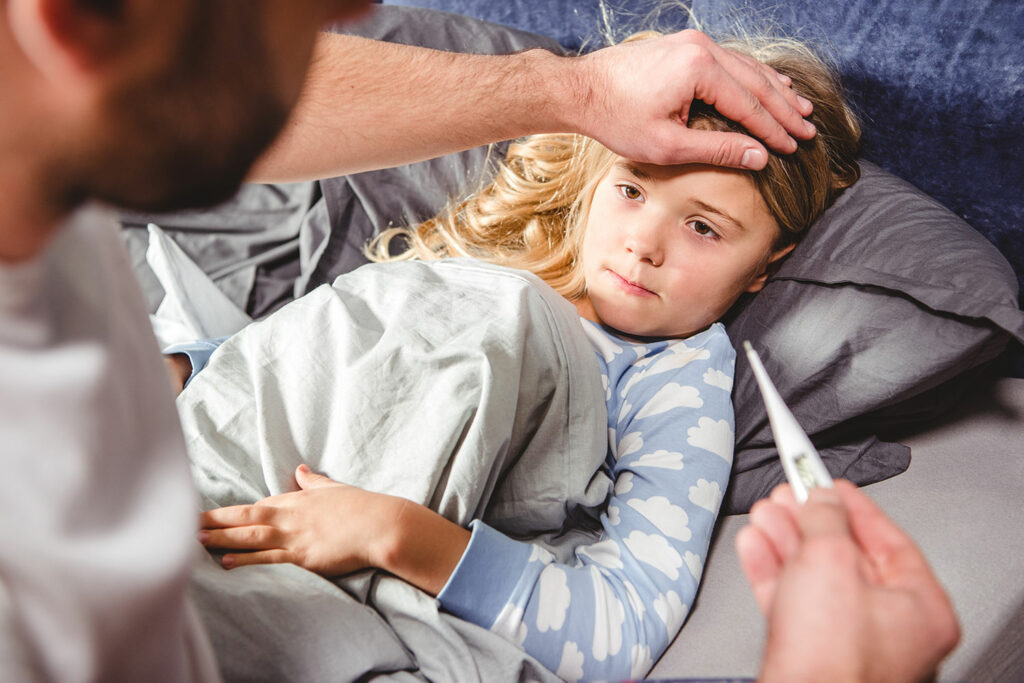 Tips to Prevent Flu Illness
Preventing the flu is the best way to stay healthy during flu season. Here are some key prevention tips:
Consider Vaccination: Annual flu vaccinations are recommended for everyone six months and older. While they won't prevent infection, they can help reduce the likelihood of severe illness.
Practice Good Hygiene: Clean hands are the best way to avoid getting the flu. So please use soap and water to wash your hands frequently for at least 20 seconds. If washing your hands is not possible, use hand sanitizer instead.
Cover Your Mouth and Nose: Help prevent the spread of the influenza virus by always covering your mouth and nose with a tissue or your elbow when you cough or sneeze.
Avoid Close Contact: Stay away from anyone who is or seems sick; if you're sick, keep your distance from others.
Disinfect Surfaces: Regularly clean and disinfect high-traffic areas in your home and at work, as well as commonly touched surfaces.
Stay Home When Sick: If you have the flu, it's essential to rest at home to avoid spreading the virus to others.
Don't Delay Seeking Emergency Care
If you or a loved one experience severe flu symptoms or warning signs of complications, do not delay seeking emergency care.
Timely medical attention is crucial to ensure the best possible outcome. In Plano and Mesquite, Prestige ER is your most reliable emergency care provider, ready to offer assistance during this flu season and beyond.
Prestige ER is Your #1 Choice During an Emergency.
#WeStayOPEN 24/7, through weekends & all holidays!
Prestige ER is honored to serve the residents and those passing through Plano and surrounding cities like Frisco and Allen, we hope that you have a lovely Summer 2018 filled with happy memories.  By better understanding vehicular heatstroke and other emergencies, you will have a greater likelihood to prevent a trip to the ER. Please keep in mind that Prestige ER is Open 24/7 every day of the year, if you need us, we are here for you.
We are available 24/7 because an accident can happen at any time. Do not risk your health! Get help from the ER experts when you need it, visit us immediately in Plano and Mesquite.
#1 Medical Emergency Care in Mesquite and Plano, Texas
Find the ER Specialists at prestigeer.org, We provide the Best 24 HR. Emergency Medical Services in Plano and Mesquite. Don't Wait in Line for ER Care!  Don't forget that WE STAY OPEN 24/7.
Get back on track to enjoying life, FAST! Experienced, Effective and Caring Emergency Physicians team up with the best On-Site ER care for everything from Minor to Major Injuries and Conditions.
CT Scan, Digital X-Ray & Ultras

ound

Certified Full-Service Diagnostic Laboratory

Specialized Pediatrics ER Care Facilities

Extended Stay Capacity
#
PrestigeERCares
About YOU!