Keeping in mind playground safety is crucial for all parents to help ensure a safe, fun and healthy activity that kids love.  For this reason, at Prestige ER, we are taking the time to call the attention of parents and children who use playgrounds who must be made aware of the dangers hidden in these entertainment areas and what they can do to prevent injuries.
Playgrounds are excellent for children to play and have fun, make friends, exercise, and even get some fresh air in the case of outdoor facilities.
Many times, both children and parents are unaware of the risks that these areas could pose. According to a special study done by the Consumer Product Safety Commission, emergency departments treat more than 200,000 children ages 14 and younger for playground-related injuries every year in the United States.
Moreover, 45% of playground-related injuries involve severe fractures, internal injuries, concussions, dislocations, and amputations.
Parents and caregivers can help prevent some of these severe injuries by following simple safety tips.
Adult Supervision
The number one safety tip is always to provide adult supervision. Teach your kids how to make proper use of the playground equipment and have appropriate and safe behaviors when playing with other children. Adults should also check the play areas to confirm equipment is in good condition, the play area has soft material as flooring, and there are no sharp objects, rocks, or tree stumps that could pose a danger.
Proper clothing
Clothes with drawstrings or cords can present a danger when using a playground; necklaces, purses, and backpacks can get caught in the equipment, causing an accident.
Follow safety guidelines
Playground equipment often has signs indicating the proper use of the same and age limits. Make sure your children always follow these guidelines.
General precautions
During the summertime, touch the equipment's surface to ensure it isn´t too hot to use. If using swings, kids should be sitting, not standing, or kneeling. They should always use both hands to hold on and wait for the swing to come to a stop before getting off.
Distance
Make sure kids don't walk in front or behind swings or in front of slides or beneath a raised seesaw. They shouldn´t be too close when using the slides and should get off and move away from the end, so it's clear for other kids.
With COVID-19 still being a concern, kids must wash their hands before and after using the equipment, if possible, clean handrails and other surfaces they touch before they use it, and remind them not to touch their face if their hands are not clean.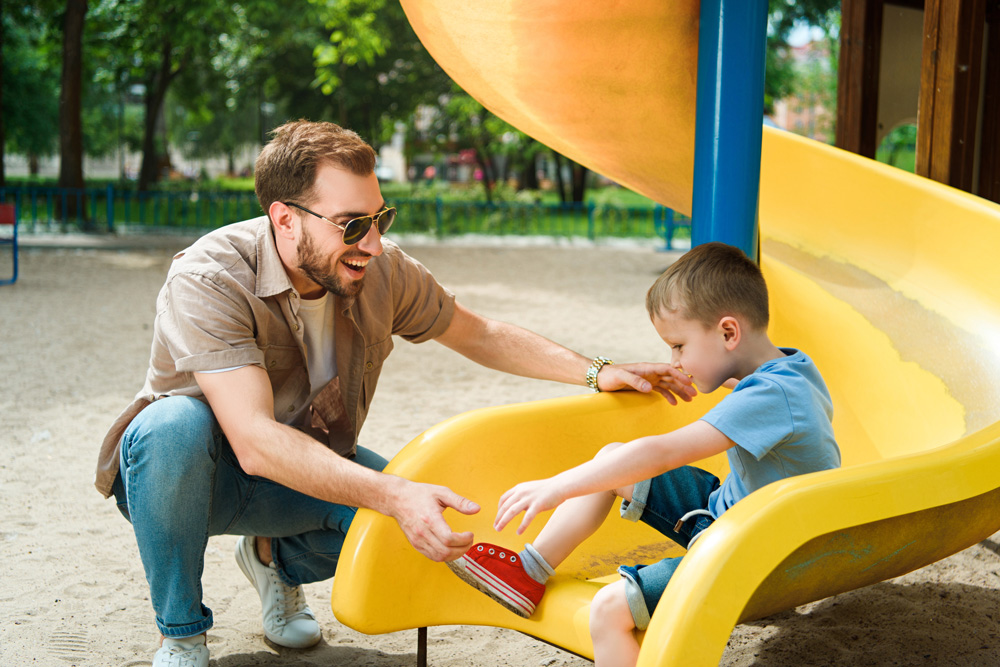 A child might incur injuries of different kinds and severity when using a playground, from minor cuts and bruises to serious accidents that require urgent medical attention. 
It is essential to carefully evaluate the seriousness of the accident and visit the ER immediately in any of these cases:
If the child lost unconscious

If after a bad fall, they begin vomiting, complain of a bad headache, or act altered.

If you suspect a fracture

If there is deformity or swelling at the injured site

A large bruised area

A large or deep cut that requires stitches

If a dirty or rusty object made the cut 
Prevention is always the best strategy. Make sure to closely supervise your children and teach them how to use the playground area and avoid accidents.
If a serious accident occurs, don't wait to come to PrestigeER, the premier ER in Plano, Texas. Our pediatric ER services are available to you and your family 24/7.
HealthCare.gov recommends that in case of an emergency, you head straight to the closest ER.
You DO NOT need to get prior approval from your health insurance company.
They will cover expenses barring whatever your deductible and coinsurance/copayments are for emergency treatments.
Prestige ER is open and ready to care for you during an emergency in which your health is significantly jeopardized 24/7, we work with all major insurance companies and our Patient Advocate team is available to help you understand your coverage and rights. We will guide and fight for you every step of the way.  For more information regarding your rights as a patient, view our Insurance Information.
Know Where to Go in the Event of an Emergency

Prestige ER is Your #1 Choice During an Emergency.
#WeStayOPEN 24/7, through weekends & all holidays!
Prestige ER is honored to serve the residents and those passing through Plano and surrounding cities like Frisco and Allen.
Part of caring for your health is to know where to go in case of an emergency.  Please keep in mind that Prestige ER is Open 24/7 every day of the year, if you need us, we are here for you.
We are available 24/7 because an accident can happen at any time. Do not risk your health! Get help from the ER experts when you need it, visit us immediately on 7940 Custer Road Plano, Texas 75025.
#1 Medical Emergency Care in Plano & Mesquite Texas
Find the ER Specialists at prestigeer.org, We provide the Best 24 HR. Emergency Medical Services in Plano. Don't Wait in Line for ER Care!  Don't forget that WE STAY OPEN 24/7.
Get back on track to enjoying life, FAST! Experienced, Effective and Caring Emergency Physicians team up with the best On-Site ER care for everything from minor to major injuries and conditions.
CT Scan, Digital X-Ray & Ultras

ound

Certified Full-Service Diagnostic Laboratory

Specialized Pediatrics ER Care Facilities

Extended Stay Capacity
#
PrestigeERCares
About YOU!