Youth Sports Injuries Prevention
National Youth Sports Safety Month
April is National Youth Sports Safety Month, sports-related injuries are the second leading cause of emergency room visits in children and teens across the country. There are around 7 million children in the state of Texas alone, and being such a sport loving state means there is an increasing population of young athletes all of whom are at risk of suffering a sports-related injury.
At Prestige ER we want to see the hopes and dreams of all these talented young Texas athletes come true.  Sadly many of these dreams are cut short by preventable injuries.
Being a busy emergency center with a full staff of pediatric physicians and nurses, we see a wide range of sports injuries.
Some injuries are due to accidents like falls, and hard-hits, others stem from overuse where a joint or muscle is used over and over causing injury.
Top Youth Sports Injuries Treated in the ER
These are some of the most frequent youth sports injuries treated in our emergency room:
Shoulder Dislocations
ACL Tear
Concussions
Spinal Injuries
Fractures, Sprains, and Strains
Rotator Cuff Injuries
Dehydration
Tendinitis
According to the CDC sports-related injuries are the leading cause of emergency room visits for children aged 12 to 17. Young children experience difficulties assessing risks and given that they also have less coordination, slower reaction times, and are less accurate than adults this puts them at greater risk of injury.
Children who participate in high-intensity or contact sports are more likely to suffer a sports-related injury.
80% of youth sports  injuries were sustained by children between the ages of 5 and 14 were while playing one of the following sports: football, basketball, baseball, or soccer.
How to Prevent Sports-Related Injuries in Children
Several studies conducted over the years estimate that more than half of youth sports injuries can be prevented, and many steps can be taken to reduce the risks associated with sports and other recreational activities, some of these include: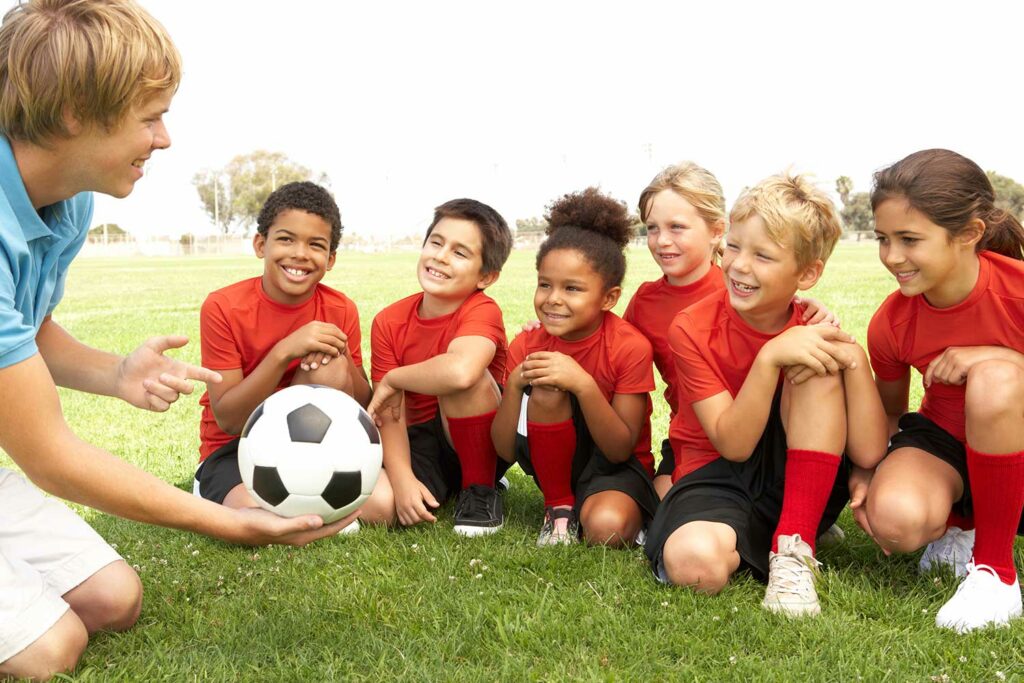 Make sure your child is healthy enough to play the sport they are interested in: Children and adolescents should undergo a thorough physical examination before starting a new sports activity.
Qualified Coaches: Parents should research the credentials of the person in charge of the sports program their children will be attending.
Playing Fields Should be Safe: Playing fields should be free of tripping hazards, holes, exposed sprinklers, broken glass, and other waste.
Practice Multiple Sports: Pediatric physicians agree that no child should play one sport year-round, instead they should play multiple sports throughout the year, this will help prevent overuse injuries where your young athlete is forced to use the same muscle group or joint over and over. A good rule of thumb is to rest for 3 months a year from any given sport.
Prepare your Kids for the Demands of Playing a Sport: Warming up and stretching before and after practice or a game is a good way to prevent injuries, as these activities help relieve muscle tension.
Wear Appropriate Sports Gear: Properly fitted sports gear can help prevent or reduce the severity of sports-related injuries. It is extremely important for all athletes but especially young ones to always use appropriate protective gear that has been designed for their specific sport, these may include: helmets, shin guards, shoulder pads, ankle braces, and shoes.
Help Them Step Away from the Game: Kids are resilient and sometimes they feel invincible, which is why adults need to monitor them constantly. If you suspect a child may have suffered a concussion they should be removed from the game immediately and brought to Prestige ER as soon as possible for evaluation. Likewise, if a child is limping or noticeably in pain they should be taken out of the game.
Prevention will always be the best medicine, but when an accident occurs Prestige ER will be available to treat your child any day at any time.
Prestige ER – In Plano, Texas & Mesquite, Texas
#1 CHOICE for FAST 24/7 EMERGENCY ROOM
At Prestige ER we always advocate for prevention but are here for you in the event of a medical emergency.  We are available 24/7 because an accident or illness complication can happen at any time. Do not risk your health. Visit Prestige ER immediately at either of our locations, Plano or Mesquite.
Find the ER Specialists at prestigeer.org, We provide the Best 24 HR. Emergency Medical Services in Plano. Don't Wait in Line for ER Care!
Get back on track to enjoying life, FAST! Experienced, Effective, and Caring Emergency Physicians team up with the best On-Site ER care for everything from Minor to Major Injuries and Conditions.
CT Scan, Digital X-Ray & Ultras

ound

Certified Full-Service Diagnostic Laboratory

Specialized Pediatrics ER Care Facilities

Extended Stay Capacity
#
PrestigeERCares
About YOU! We're the best emergency room near you!