For many of us, Easter is reminiscent of baskets filled with marshmallow chicks, chocolate bunnies and jelly beans hidden in colorful festive eggs. But, before you prepare to attend this year's traditional Easter egg hunt, remember that safety comes first.
To help you spend your day making loving memories with your family at the park, or your back yard, rather than in our ER, we've prepared a small list of safety tips for you and your loved ones.
Eggs are a potentially hazardous food if they are not cooked and handled correctly, as they are capable of harboring Salmonella, a rapid growth disease-causing bacterium.
Follow these tips to avoid getting sick:
Don't eat or cook cracked eggs

If you have a tradition of decorating Easter eggs, make sure to use clean and unbroken ones

Eggs should be boiled in water that is at least 185-190 degrees F

Hard-boiled Easter eggs left at room temperature for many hours or days as decoration should be discarded and not eaten.

Always wash your hands when handling eggs

Wash all utensils, equipment, and countertops that have been in contact with any raw food before preparing other meals.

Only use food-grade dyes, or make your own from grape juice, tea, beets, blueberries, turmeric, or other natural products.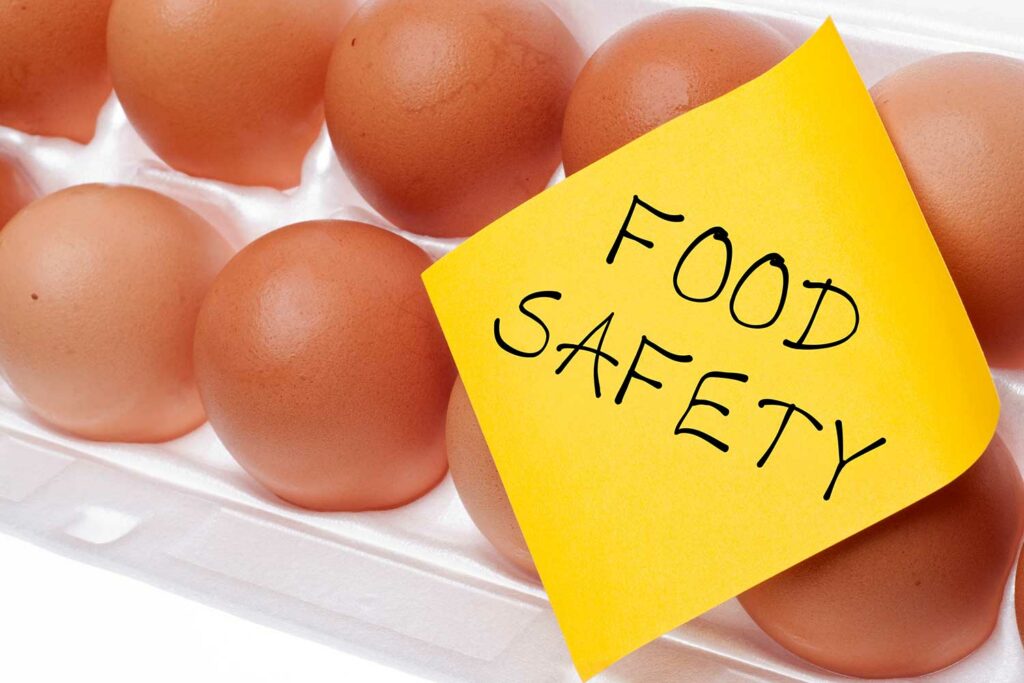 Beware of Choking Hazards
Fill plastic eggs with age-appropriate candy and toys, remember children's airways are higher and narrower than those of adults.
To prevent choking, we recommend:
Avoid hard, round candy; thick or sticky candy; candy with nuts; caramel; sour balls, and jawbreakers

Teach your children the difference between edible and non-edible decorations, for example, it's ok to eat chocolate bunny but not ok to eat the ornamental grass it is sitting on.

Be sure that Easter toys and dolls are free of choking hazards. Remember that pieces that can be removed from a doll or toy pose a potential choking danger to small children.
If your child swallows a large piece of candy or a small toy and as a result has trouble breathing, or if you notice their skin turning a bluish color, it's time to bring them to the ER immediately.
Watch out for Food Allergies
Food allergies are a common reason why people end up in the emergency room during holidays. If you or a loved one suffers from food allergies, you should be double vigilant especially if you are attending or hosting a pot-luck.
Ask parents if any kids with food allergies will be attending your Easter egg hunt or if any of the adults have a food allergy

If someone with known food allergies will be joining your Easter celebration, opt for peanut, dairy, and gluten-free candy and snacks. For those with nut or chocolate allergies, try providing alternative snacks like popcorn, cheese crackers, gummy bears or marshmallows
In the event of a severe allergic reaction, where the patient has trouble breathing, or there is significant swelling of the face, bring them into Prestige ER immediately.
Prevent Outdoor Accidents
If you're having an Easter egg hunt, consider hiding places carefully.
Walk through the area and remove hazards such as garden tools, hoses, where kids could trip and fall as well as any chemicals

Create boundaries to keep kids from wandering too far

Choose hiding places that are safe, away from cliffs, traffic, and other outside dangers

Hide eggs away from areas where they could come in contact with wild animals, birds, or lawn chemicals

Always keep an eye on kids while they are egg hunting to prevent them from wandering off, or talking to strangers
At Prestige ER we wish you and your loved ones a Happy and Safe Easter. And remember we will be available, as always, to attend any medical emergency you experience this Easter Sunday.
HealthCare.gov recommends that in case of an emergency, you head straight to the closest ER.
You DO NOT need to get prior approval from your health insurance company.
They will cover expenses barring whatever your deductible and coinsurance/copayments are for emergency treatments.
Prestige ER is open and ready to care for you during an emergency in which your health is significantly jeapordized 24/7, we work with all major insurance companies and our Patient Advocate team is available to help you understand your coverage and rights. We will guide and fight for you every step of the way.
Prestige ER – In Mesquite and Plano, Texas
#1 CHOICE for FAST 24/7 EMERGENCY CARE
We are available 24/7 because an accident or illness complication can happen at any time. Do not risk your health by not getting help from the ER experts, visit us immediately at either of our two locations in Mesquite and Plano Texas.
Find the ER Specialists at prestigeer.org, We provide the Best 24 HR. Emergency Medical Services in Plano. Don't Wait in Line for ER Care!
Get back on track to enjoying life, FAST! Experienced, Effective, and Caring Emergency Physicians team up with the best On-Site ER care for everything from Minor to Major Injuries and Conditions.
CT Scan, Digital X-Ray & Ultras

ound

Certified Full-Service Diagnostic Laboratory

Specialized Pediatrics ER Care Facilities

Extended Stay Capacity
#PrestigeERCares About YOU!