National Eating Disorders Awareness Week
The week of Feb 22nd to the 28th marks National Eating Disorders Awareness week.
The goal of this observance is to raise awareness of the many dangers associated with eating disorders. In a society where stress, anxiety, and unrealistic social conventions prevail, education is key.
At Prestige ER, we want to take this opportunity to spread a message of hope and understanding, as well as provide life-saving resources to anyone who may need them.
What Are Eating Disorders?
Eating disorders are illnesses that severely affect the eating behaviors, thoughts, and emotions of an individual.
Those affected by an eating behavior become overly preoccupied with the foods they consume and their body weight.
It's important to know that although eating disorders are serious mental and physical illnesses, they are treatable, and help is available.
How Common are Eating Disorders?
Eating disorders can affect people of every age, gender, race, sexual orientation, and background.
Everyone has a unique relationship with food. For some of us, it's a source of comfort in times of emotional distress; for others, it's more of an indulgence, and others view it as a necessity or a means for sustenance.
Yet, for a significant portion of the population, their relationship with food is at best negative and, at worse, severely damaging.
Here are some statistics about eating disorders:
Nearly 30 million Americans (9% of the U.S. population) will develop an eating disorder in their lifetime. 10 million of these will be men

Eating disorders are the

second deadliest mental illnesses

after opioid overdose

More than 10,000 people die each year as a direct result of an eating disorder

26% of eating disorder patients attempt suicide

African Americans, indigenous people, and other people of color are half as likely to be diagnosed with an eating disorder or to receive treatment

Women with a physical disability are more likely to develop eating disorders

20 to 30% of adults with eating disorders are in the autism spectrum, as well as anywhere between 3 and 10% of children

Having a larger body size is both a risk factor for developing an eating disorder and a common outcome for patients struggling with bulimia and binge eating disorder

Individuals with a larger body are less likely to be diagnosed with an eating disorder compared to those with regular weight or underweight people

Although athletes are more likely to test positive for an eating disorder, they are less likely to seek treatment due to stigma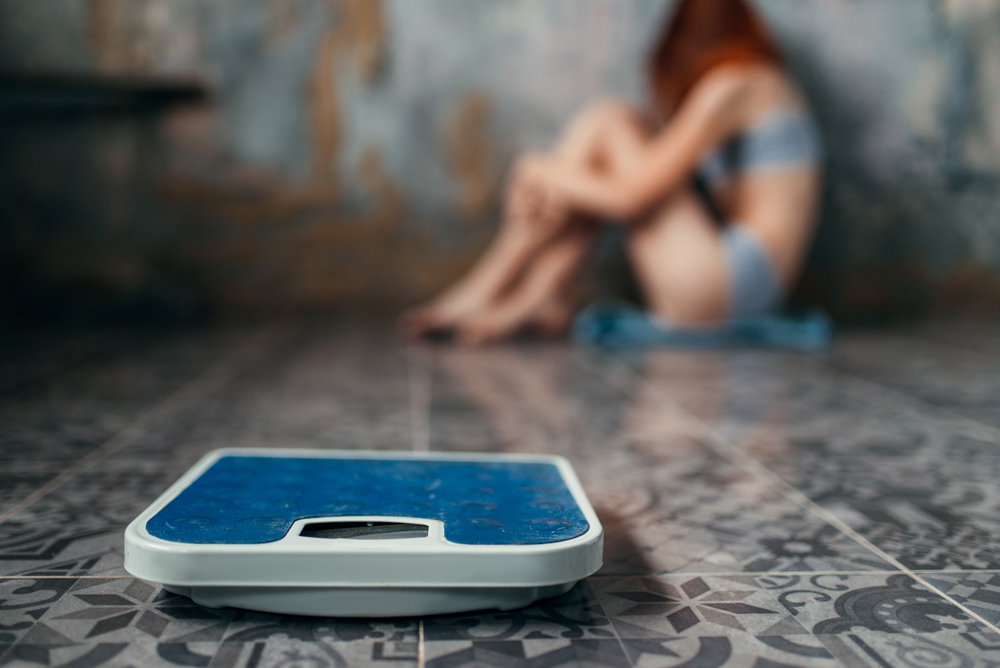 Common Types of Eating Disorders
Researchers don't know for sure what causes eating disorders. However, a growing consensus suggests a mix of genetic, psychological, and sociocultural factors is to blame.
Anorexia Nervosa
This condition involves individuals who view themselves as overweight when in reality, they are not. The patient then becomes obsessed with losing weight and staying thin.
Patients continuously monitor their weight and food intake. They often avoid eating certain types of food and severely restrict their caloric intake.
Due to these obsessive practices, individuals often become severely underweight, leading to other severe health conditions.
Bulimia Nervosa
Another well-known eating disorder involves people who frequently eat large amounts of food until they become painfully full. During these binges, the person typically feels they are unable to control how much they are eating.
After binging, the individual will purge themselves by inducing vomiting, taking laxatives and diuretics, fasting, or exercising excessively.
The attempt to purge is made to relieve their stomach discomfort and compensate for the calories they consumed.
Binge Eating Disorder
Very similar to bulimia nervosa. With this condition, the person eats an excessive amount of food in a short time. The difference is, with a binge eating disorder, there is no purging involved.
The destructive behavior needs to happen frequently, at least once a week over three months, to diagnose this disorder.
This type of disorder is more common than both anorexia and bulimia.
When to Seek Emergency Medical Attention
Anorexia can lead to severe malnutrition and decreased muscle mass, affecting the heart muscle and reducing its ability to contract and pump blood.
Anorexic patients should come to our ER if they experience any of the following:
Unusually low blood pressure

Cardiac arrhythmia

Decreased heart rate or irregular heartbeat

Chest pain

Seizures due to extremely low blood sugar levels

Liver dysfunction
Bulimic patients should rush to our ER if they experience any of the following:
Severe dehydration

Trouble swallowing foods or liquids

Vomiting blood (hematemesis)
Binge eating disorder patients require immediate medical attention when they present any of these warning signs:
Severe sudden onset of abdominal pain

Painful bloating or distension in the abdominal area

Feeling nauseous but unable to vomit
Prestige ER is a safe zone for everyone, including eating disorder patients. Our main priority is your well-being, so we promise you will never feel judged by our staff. We are here to help you get back to health.
Please visit The National Eating Disorders Association (NEDA) website if you need help dealing with an eating disorder.