Cold or the Flu, What's the Difference?
How to Tell the Difference Between a Common Cold or the Flu
There a lot of similarities between the common cold and the flu, both are viral respiratory illnesses but they are caused by different viruses, they share a lot of the symptoms and both can cause severe discomfort. However, in general terms, colds are milder and have fewer probabilities of developing complications like pneumonia than the flu.  Let's clarify the differences to make it easier to know whether you have the common cold or the flu.
Influenza is an upper respiratory illness caused by a virus. Unlike the common cold which can be caught any time of the year, influenza, or the flu as it is commonly referred to, is a seasonal illness. Flu season runs from fall to spring, but it peaks during the winter months.
The flu is spread the same way as a cold, by coming into contact with droplets from an infected person. The contagion period starts one day before symptoms appear and can last up to a week.
The illness is caused by the influenza virus A, B, and C, with the A and B viruses being the most common. However, the viruses are constantly mutating, causing the active strains to vary every year, which is the reason a new flu vaccine is developed every year.
Because of the similarities of these two respiratory illnesses, it is difficult to diagnose which one is affecting the patient, unless a specialized test is done at the onset of the illness, which unfortunately most people don't do.
Based on symptoms alone patients can assess whether they have a cold or the flu, however, if you are unsure or suspect you may be suffering from influenza, take the time to visit our Prestige ER center to get tested before your symptoms worsen.
| | | |
| --- | --- | --- |
| Symptoms | Cold | Influenza or Flu |
| Fever | Rare in Adults | Usual |
| Headache | Rare | Common |
| Body Aches | Mild | Severe |
| Tiredness or Weakness | Sometimes | Yes, and can last up to 3 weeks |
| Extreme Exhaustion | Rare | Usual During the First Days |
| Nasal Congestion | Very Common | Sometimes |
| Sneezing | Usual | Sometimes |
| Sore Throat | Common | Sometimes |
| Chest Discomfort – Cough | Mild to Moderate cough | Common, Can Become Severe |
| Nausea and Vomiting | Rare | Common in Children |
| Chills and Sweats | Rare | Common |
Influenza tends to be much more severe than a cold, and for children or the elderly, it is more likely to lead to other serious health problems like pneumonia.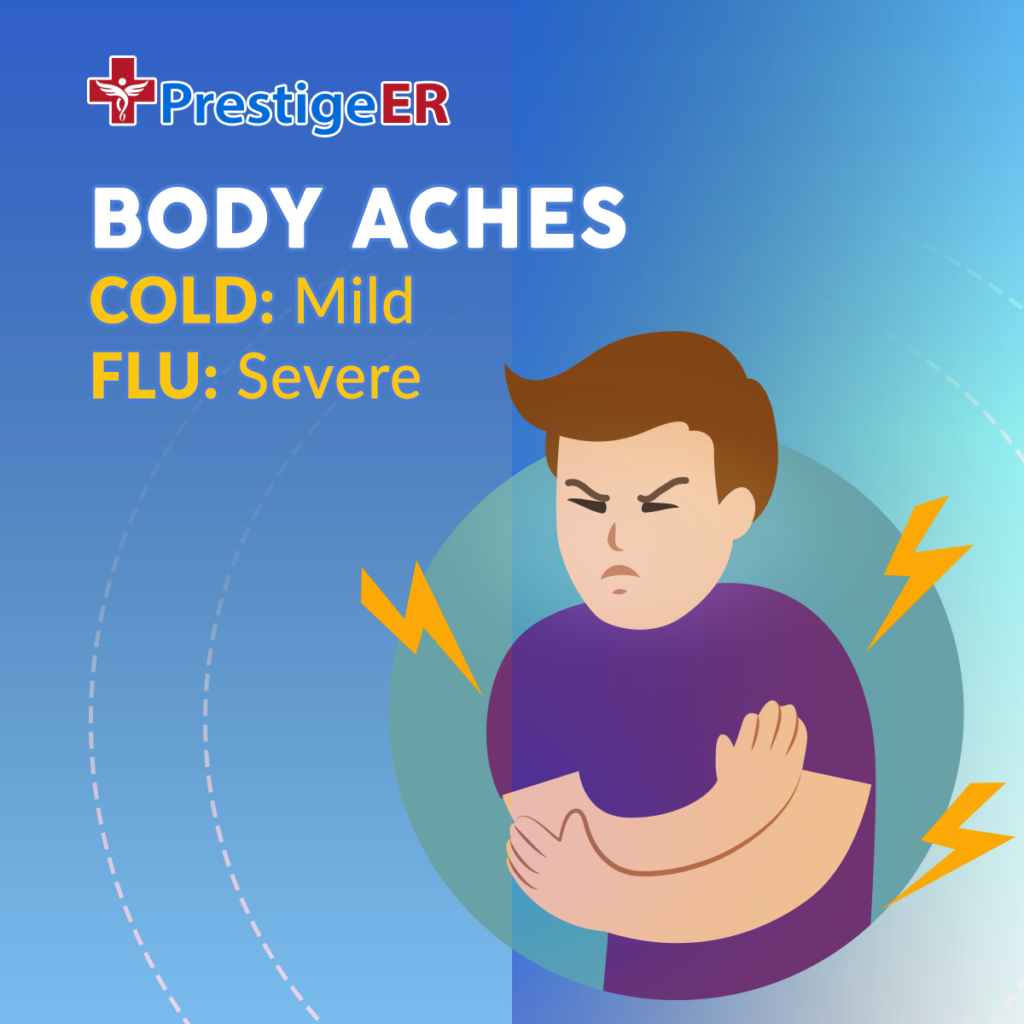 Preventing Influenza
To prevent catching and spreading the influenza virus, the Centers for Disease Control and Prevention (CDC) recommends you follow these guidelines:
All individuals 6 months or older should get the flu vaccine every year.
Every year a new vaccine is released which is designed to protect against the viruses the research suggest will be the most common.
You should get vaccinated by the end of October or early November.
There are certain populations that are considered high risk for serious flu complications, these include young children, pregnant women, people over 65 years of age, and anyone who has chronic health conditions such as asthma, diabetes, heart disease, kidney disease, neurological disease, or COPD, it is extremely important for members of these groups to get vaccinated.
Avoiding the spread of the virus is important, which is why we recommend the following:
Wash your hands with soap and water regularly.
Clean surfaces you normally come into contact with such as your keyboard, phone, and door handles regularly with disinfecting wipes.
Use a tissue to cover your mouth and nose whenever you cough or sneeze.
Dispose of used tissues as fast as possible.
If you are sick with cold or flu symptoms, we recommend you stay home until the contagion period is over.
When Should You Seek Medical Assistance
If you contract the flu virus, it is important to know when you should visit Prestige ER for immediate emergency medical attention:
Persistent Fever: If you have had a persistent fever for three days, or if your fever receded only to come back, it can be a sign of a bacterial infection that needs to be treated as soon as possible.
Pain While Swallowing: A sore throat can sometimes be a symptom of the flu, and while this can cause mild discomfort, severe throat pain can be a sign of strep throat which requires medical attention.
A Persistent Cough: If you develop a cough with thick mucus, you should seek medical attention. A cough that lasts for more than two or three weeks can be a sign of bronchitis and needs to be evaluated by a doctor.
Trouble Breathing or Chest Pain: The flu does not cause shortness of breath or chest pain if you experience either of these head to Prestige ER immediately as these could be signs of serious and potentially life-threatening conditions such as heart disease, asthma, or pneumonia.
Fight The Flu Season Blues
Flu season is here, and while we can't prevent you from catching it, the medical staff at Prestige ER is available to help you through a speedy recovery.
At Prestige ER, are available 24/7 especially in the middle of the night when viruses are at their worst.  If you experience any of the signs of alert, don't risk your health or that of your loved ones.  The flu left untreated can quickly escalate to dangerous pneumonia if left untreated.  Children, older adults and people with asthma are particularly vulnerable.
Find the ER Specialists at prestigeer.org, We provide the Best 24 HR. Emergency Medical Services in Plano. Don't Wait in Line for ER Care!
Get back on track to enjoying life, FAST! Experienced, Effective and Caring Emergency Physicians team up with the best On-Site ER care for everything from Minor to Major Injuries and Conditions.
CT Scan, Digital X-Ray & Ultras

ound

Certified Full-Service Diagnostic Laboratory

Specialized Pediatrics ER Care Facilities

Extended Stay Capacity
#
PrestigeERCares
 About YOU! We're on 7940 Custer Road, Plano, Texas 75025
Email:
info@prestigeer.org
Phone: (972)527-3000 
#
BestERPlano